Apple today unveiled the completely reimagined MacBook Pro powered by the all-new M1 Pro and M1 Max — the first pro chips designed for the Mac. Available in 14- and 16-inch models, MacBook Prodelivers groundbreaking processing, graphics, and machine learning (ML) performance whether running on battery or plugged in, as well as amazing battery life — enabling workflows previously unimaginable on a notebook. The new MacBook Pro also features a stunning Liquid Retina XDR display, a wide range of ports for advanced connectivity, a 1080p FaceTime HD camera, and the best audio system in a notebook. Combined with macOS Monterey, which is engineered down to its core to take full advantage of M1 Pro and M1 Max, the user experience is simply unrivalled. Shattering the limits of what a notebook can do, MacBook Pro is designed for developers, photographers, filmmakers, 3D artists, scientists, music producers, and anyone who wants the world's best notebook. The new MacBook Pro joins the 13-inch MacBook Pro with M1 to form the strongest lineup of pro notebooks ever.
"We set out to create the world's best pro notebook, and today we're excited to introduce the all-new MacBook Pro with M1 Pro and M1 Max — a game-changing combination of phenomenal performance, unrivalled battery life, and groundbreaking features," said Greg Joswiak, Apple's senior vice president of Worldwide Marketing. "The all-new MacBook Pro adds a breathtaking XDR display, more ports like MagSafe 3, an advanced 1080p camera, and a sensational six-speaker sound system, all in a stunning new design. The new MacBook Pro simply has no equal and is by far the best pro notebook we've ever built."
M1 Pro and M1 Max revolutionise the MacBook Pro experience and mark a huge step forward in the transition to Apple silicon on Mac. MacBook Pro with M1 Pro and M1 Max applies a system-on-a-chip (SoC) architecture to pro systems for the first time, featuring fast unified memory and increased memory bandwidth for unparalleled performance with best-in-class performance per watt and industry-leading power efficiency.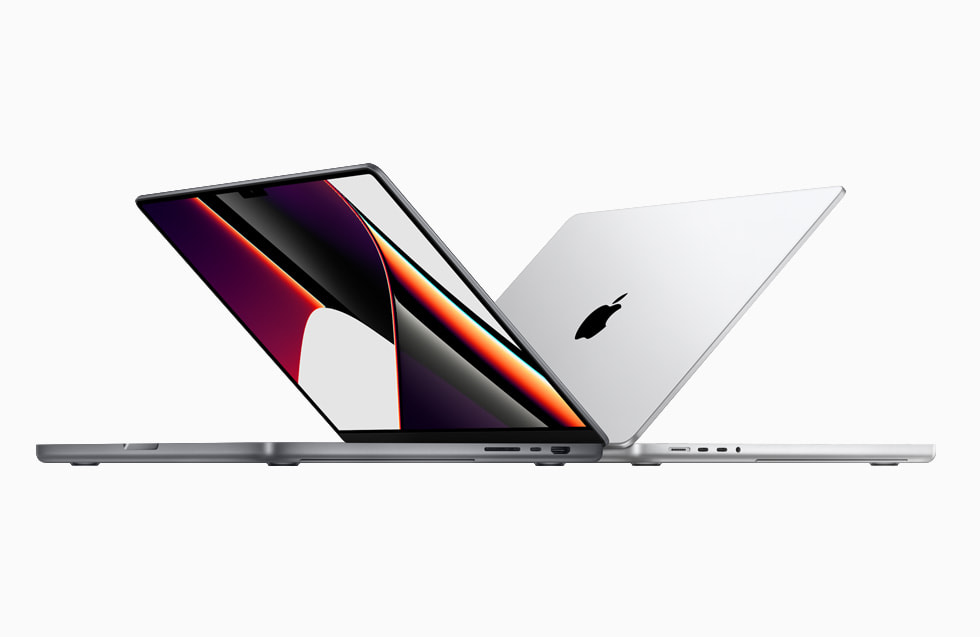 In addition, the new MacBook Pro pushes the limits of what a notebook can do, delivering incredible performance and all-new capabilities. With the 10-core CPU in M1 Pro and M1 Max, the 14-inch MacBook Pro enables:
Up to 3.7x faster project builds using Xcode.
Up to 3x more Amp Designer plug-ins in Logic Pro.
Up to 2.8x faster computational fluid dynamics performance in NASA TetrUSS.
Featuring the 16-core GPU in M1 Pro and the 32-core GPU in M1 Max, the 14-inch MacBook Pro transforms graphics-intensive workflows with:
Up to 9.2x faster 4K render in Final Cut Pro with M1 Pro, and up to 13.4x faster with M1 Max.
Up to 5.6x faster combined vector and raster GPU performance in Affinity Photo with M1 Pro, and up to 8.5x faster with M1 Max.
Up to 3.6x faster effect render in Blackmagic Design DaVinci Resolve Studio with M1 Pro, and up to 5x faster with M1 Max.
Featuring a beautiful, brand new design, the 14- and 16-inch models of MacBook Pro were designed with a focus on performance and utility. Its all-new aluminium enclosure optimises internal space for more performance and features. The enclosure is precisely machined around an advanced thermal system that can move 50 percent more air than the previous generation, even at lower fan speeds. The thermal design enables MacBook Pro to deliver phenomenal sustained performance while staying cool and quiet. And because of the efficiency of Apple silicon, the fans never even have to turn on for most tasks users perform every day.The new 14- and 16-inch MacBook Pro also come with macOS Monterey, the latest version of the world's most advanced desktop operating system. The combination of macOS Monterey and the powerful new M1 Pro and M1 Max delivers breakthrough performance and productivity for users.
Apple has also updated Final Cut Pro and Logic Pro with powerful new features for creative professionals, and optimizations that take full advantage of the power and performance of the M1 Pro and M1 Max chips in the all-new MacBook Pro. Professional video editors using Final Cut Pro on the new MacBook Pro can perform tasks never before possible on a Mac, like the ability to play seven streams of 8K ProRes or colour grade 8K HDR video with the new Liquid Retina XDR display — a first for any notebook. Final Cut Pro also introduces a new Object Tracker that uses machine learning to automatically detect faces and objects, and match their movement to create beautiful, cinema-quality titles and effects on any Mac. Logic Pro, Apple's pro music creation software, now comes with a complete set of tools for authoring spatial audio music — allowing anyone to mix and export their songs in Dolby Atmos for Apple Music. And musicians can use up to 3x as many plug-ins for recording on the all-new MacBook Pro with M1 Max. Final Cut Pro and Logic Pro are Universal apps that build upon the breakthrough performance and pro capabilities of macOS Monterey, and both are available today on the Mac App Store.
"The world's most creative people use Final Cut Pro, Logic Pro, and the Mac to make the memorable movies, TV shows, online videos, songs, and soundtracks that we all enjoy," said Bob Borchers, Apple's vice president of Worldwide Product Marketing. "With the combination of powerful new features in Final Cut Pro and Logic Pro, and the unprecedented performance from the MacBook Pro powered by the all-new M1 Pro and M1 Max, pros will be able to push the limits of their creativity like never before."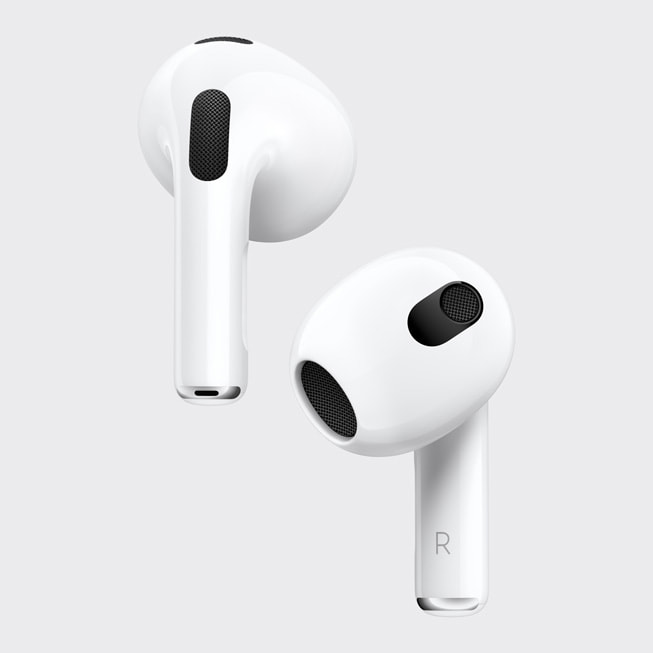 Apple has also announced the third generation of AirPods featuring spatial audio, delivering advanced features and a magical experience in a new contoured design. By combining the power of the H1 chip with an Apple-designed acoustic system, the new AirPods use computational audio to deliver breakthrough sound with Adaptive EQ. Users can enjoy spatial audio featuring Dolby Atmos in Apple Music, movies, and tv shows, along with dynamic head tracking, across Apple devices. The new AirPods are resistant to sweat and water, and feature a force sensor for easy and intuitive control of music and phone calls. The extended battery life enables up to six hours of listening time1 and up to 30 hours of total listening time with the convenient charging case. AirPods (3rd generation) join the world's most popular family of headphones and are available to order soon.
"AirPods forever changed wireless headphones with their groundbreaking design, incredible sound, and magical experience," said Greg Joswiak, Apple's senior vice president of Worldwide Marketing. "We are excited to introduce the next generation of AirPods, featuring unrivalled sound through Adaptive EQ and spatial audio with dynamic head tracking, along with seamless interaction between Apple devices — making the world's best-selling headphones even better."
More information and purchasing options of various Apple products available here