If I told you that we were going to drink craft beer at a hawker centre, the first reaction you might have is one of surprise. After all, one of our immediate thoughts when the words 'beer' and 'hawker centre' is old men sitting around a table crowded with bottles, talking trash while beer aunties hover around them offering another round of Tiger.
But with Danish craft beer label Mikkeller taking over a hawker stall at Chinatown Complex Food Centre, that image is about to change, perhaps with beer-lovers from more diverse backgrounds, all revelling in the joy of craft beer. Affectionately known as the 'World's Smallest Mikkeller Bar', its co-founders Kuok Meng Chao and Daniel Goh also know that Mikkeller have never been 'just' about drinking, and have an entire culture and devoted fanbase. And to help them run it, they have General Manager Sylvester Fedor at the fore of the business,
"We've always enjoyed the Mikkeller brand beyond their brews, with initiatives like the running club and the festival, which makes it feel like a whole community," says Sylvester. "That's why we decided to message Mikkeller one day, and see if they were interested in reopening in Singapore. It was really just an idea for a pop-up at first, but after they saw the opening videos, HQ said let's make it permanent, and here we are."
Sylvester's affinity with craft beer began when he started patronising Smith Street Taps
seven years ago. The former flight steward's straight-shooter personality, frequent visits,
and enthusiasm for the craft won over owners Daniel and Meng Chao, who eventually
offered him a part-time position at the hawker bar. Seeing the potential in the craft brewery business, Sylvester took the plunge and joined Young Master Ales, Hong Kong's highest rated brewery, in 2017 as their representative in Singapore. He launched and built the brand's presence in the city state, before setting his eyes on the regional and international market. He then moved to Bangkok, Thailand and became part of the Mikkeller family, working closely with Mikkeller Bangkok's founders Jakob Mørkenborg Rasmussen and Rutima "Vaew" Vaewvichit as the General Manager of their three bars in the city.
The pandemic saw him returning home to Singapore, who required assistance with their distributorship, SST Trading Co. The lack of Mikkeller brand presence in Singapore upon his return then sparked a conversation between him and Mikkel, including a drunken idea to launch the world's first hawker and smallest Mikkeller bar. "We decided on a hawker centre because there's so much good good all around which makes for amazing pairings," says Sylvester. "I also think that it creates a lower barrier for entry and more accessible to the mass market."
When it comes to barriers to entry, Mikkeller can be pricey though – not just for customers, but even when it comes to bringing in the kegs from overseas. "The Mikkeller ethos has always been to keep a few core beers, but constantly changing out the other taps. Even with one specific beer, they can have 6 variations of it, like ageing it in a tequila barrel or with rum," says Sylvester. "There's a lot of freedom of choice in deciding what we want to bring in, and our goal is to always keep customers engaged with our products. COVID has made it hard for us to do everything we want, with countless delays in shipments thanks to a lack of containers in Copenhagen, while bringing the kegs here comes with a hefty price. Based on our margins though, we do try to keep the pricing lower so more people can try our beers, and really develop a taste and interest in the brand."
As the 'World's Smallest Mikkeller Bar', the six sqm (65 sq ft) stall draws on Scandinavian aesthetics and playfully works around the spatial and aesthetical restrictions of a hawker centre. Pairing green square-tiled walls and flooring with light wood and clean lines, both the signboard and chalkboard menu display pay homage to the signature Mikkeller style adopted by Mikkeller bars around the world. "A local designer created all the woodwork for us, and we put it all in place once HQ approved," says Sylvester. "It's not huge, but at the same time, because it's in a hawker centre, the possibilities are endless. You could put 200 people here and it still feels spacious!"
Mikkeller Singapore only has 10 beers on tap alongside a curated selection of packaged beers from Mikkeller, international and local breweries. Being in Singapore, it also makes sense that much like their counterparts overseas, they're also looking to do some local collaborations, and firmly establish themselves within the local craft beer scene. "We're always in conversation on how to rotate our products, whether it's sours or even non-alcoholic beers – sometimes we have pregnant ladies coming here with their kids, so what are they going to drink?" says Sylvester. "We're also working with partners who've been with Mikkeller's beer celebrations, or those we believe in, such as Heart of Darkness or Lion City Brewery. It's our own way of giving back to the community and helping these guys garner more interest in their brands as well."
Like other Mikkellers worldwide, Mikkeller Singapore features their very own logo, which sees the brewery's mascot, Henry, in a Merlion costume. "The original mascots' names are Henry and Sally, and it's just this cute idea that they're a couple who fell in love and share a love for beer," says Sylvester. "We also wanted something unique for Singapore, like how Japan takes inspiration from kabuki, while Shanghai features the qipao and Korea the hanbok. We eventually pitched either the Sarong Kebaya or Merlion to our art director, and this is what he ended up with!"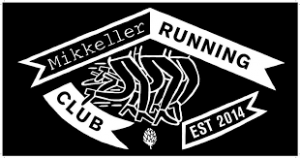 Mikkeller is not just a brand. It's a lifestyle. And nowhere do we see it more than the running club, which has been active since they first arrived in Singapore in 2014. With the launch of Mikkeller in Singapore, the local chapter of Mikkeller Running Club (MRC) continues their tradition on the first Saturday of the month. Plus, participants are also rewarded with a complimentary beer at Mikkeller upon completing the run.
"Mikkeller's products actually have certain nutrients that help hydrate you after a run!" says Sylvester. "We're planning to expand it in future to, like doing runs in the East and the West, to bars that carry Mikkeller beers…And the people who participate are very enthusiastic too – you've got people acting like mini-tour guides along the way, where they're pointing out good places to eat and places of interests!"
"We're confident that this stall will be a permanent stall, but we do also want to continue expanding in future to open an actual place, like a whole smokehouse or microbrewery. We also want to do a Mikkeller beer fest in Singapore, perhaps an entire festival spanning Robertson Quay to Marina Bay Sands, filled with 'meet-the-brewer' sessions and of course, beer," says Sylvester. "I don't think it's such a far-fetched idea – you just the airspace to open up again, and more people with the same mindset as us."
"The goal is to do more collaborations, and the possibilities endless. We're pushing it as much as we can, and all of us have full confidence it's going to work. There is a lot of hype and a lot of people interested in the brand and its ability to bring people together. Eventually, we could create an eco-system, and from there, create beer fests, push more products, and really, just building up belief in the brand, from uncles in the area, to beer geeks, to the everyday Singaporeans who may never even have heard of the brand before."
Mikkeller Bar Singapore is located at #02-058 (Green Zone), Chinatown Complex, 335
Smith Street, Singapore 050335. They are open Tuesday-Friday, 5.30pm to 10.00pm and on
Saturday, 2.30pm to 10.00pm. More information available on their Facebook or Instagram, where updates on the taplist, special events and more will be published.