Just because we can't gather in large groups anymore, doesn't mean we can't find a way to enjoy ourselves together, apart. Even when it comes to something like wine tasting, given enough innovation and out of the box thinking, it's completely possible to replicate the experience online. Which is why for anyone, anywhere in the world looking to expand their knowledge in the field, the advent of digital wine experience company VIVANT would be a welcome addition to their lives.
Available 'anywhere, anytime' according to their website, VIVANT combines pre-recorded videos, food and wine kits delivered to your door, and live personalised interactions with real life experts in the industry in their unique online experiences. Adopting a monthly subscription system, where membership nets you unlimited access to their online experiences, expect new courses and classes each week to draw you deeper into the endlessly fascinating world of wine, ranging from the art of bottling champagne, to features spotlighting leading women in the industry.
Speaking to Singapore-based VIVANT wine advisor Matt Ayre, we picked his brain to find out just what makes VIVANT so appealing, whether a digital wine tasting experience matches up to the real thing, and the efforts towards featuring biodynamic and environmentally-friendly vineyards and producers in the Vivant lineup. "Vivant has actually been in development for a few years now, even before COVID-19," says Matt. "Before that, I'd been working as a wine and spirits educator here in Singapore, advising clients and helping them learn what they enjoy. When I heard about the opportunity, it seemed like a perfect fit for me."
"I've always been interested in how things tasted, and well, it was always just a longstanding passion.
"I've always been interested in how things tasted, and well, it was always just a longstanding passion. But I never considered it a career until I got a part time job in a cheese shop, and the more I learnt, the more fascinating it became. We worked with small scale cheese producers, and the cheese always changed depending on the pastures the cows or sheep are feeding on, and other factors like that. And wine is similar, but has a much deeper history," he adds. "Eventually, I did move to a wine company and started studying wine and spirits, building up my knowledge, and gaining a hunger to constantly learn more, and taste more. It seemed like a logical next step in my mastery of such things."
On the way VIVANT has grown and plans to continue to grow, Matt explains that while they're starting with the home of wine – France, it won't be long before these experiences expand into much larger regions, to explore wine culture across the world. "We're starting off by focusing on the French regions, but we will be gradually expanding to other parts of the world as well, including South America, and Australasia," says Matt. "Primarily though, we're looking for people who're also interested in promoting this sustainability and knowledge, and see how best we can serve our clients, whether it's offering classes on the basics of food and wine pairing, to experimenting with less common cuisine. The platform itself is limitless, and has huge potential to grow, and we are driven by what our members want to be educated about."
How much of a 'school' is VIVANT though, and how much of the lesson is hard and fast facts about taste and regions? "When it comes to pairings, there are no right or wrong answers, because everyone's palate is different," says Matt.
"In our experiences, we explore the interaction between elements, different tastes of food and parts of wine, and how they affect each other. Ultimately, it's not math, and it's very much a 'beauty in the eye of the beholder situation'. We're open to saying that you can have a red wine to bring out the spiciness of Asian flavours, if that's what you want, especially when in the West, people usually pair it with a dry Riesling instead to mellow out the taste. People should drink what they want, and we're here to introduce the theories, but never to be didactic and tell them this is the right way to do things."
While VIVANT wasn't made specifically for the pandemic, it seems to have found itself in a very comfortable position in these coronavirus-stricken times, for everyone to enjoy wine classes safely, from anywhere in the world. "People are now more familiar with the digital realm, technology is improving, and people can't travel anymore. Doing this livestream experience is a way of giving people new experiences, and a way of visiting these far-off places regardless of travel restrictions," says Matt. "Even I haven't visited all of these French regions, which is why going digital really offers such a unique opportunity to visit all these places, and hear from and interact with these amazing producers that we really believe in. It's immersive, entertaining and educational."
VIVANT's goal goes beyond just selling a subscription however; with a genuine desire to educate the world about wine, and to also forward their goal of making the wine industry more sustainable in future. With their name literally translating to being alive or 'living', it is the future of the planet that comes first for VIVANT. Take for example how one percent of your membership subscription, Experience Kit and Wine purchases go to funding innovative new ideas and research making a positive impact on a sustainable future for wine, from promoting the taste of naturally produced wines, to amplifying the voices of responsible winemakers.
"We want to educate people to make conscious consumer choices about the types of wines they're buying, and winemakers they're choosing to support," says Matt.
VIVANT's own story originates from 300-year old Burgundy-based Château de Pommard, who embarked on a biodynamic viticulture journey several years ago. The result? Their wines have become more aromatic, flavourful and energetic. "There's a growing body of evidence that organic, biodynamic wines do taste better, based on over 70,000 reviews and ratings compiled," explains Matt. "And when they taste better, and help restore the health of the planet, it makes sense to focus on doing that."
While less than 3% of the world's wines are produced naturally today, VIVANT believe that they can pave the way towards increasing that number to 10% by 2030. In their company's operations, they choose only to work with responsible winemakers, each one signing the VIVANT Pledge, promising to grow grapes and make wine with respect for the environment. That means no synthetic chemicals in the vineyard, no additives in the winemaking process, complete traceability of the grapes, the winemaking and the aging process, and a commitment to workplace equality and diversity.
"Now that the platform has been launched, we get a lot more interest from winemakers interested in what we're doing," says Matt. "We can afford to be selective, and we will never compromise on both the sustainability aspect and the quality of our wine partners."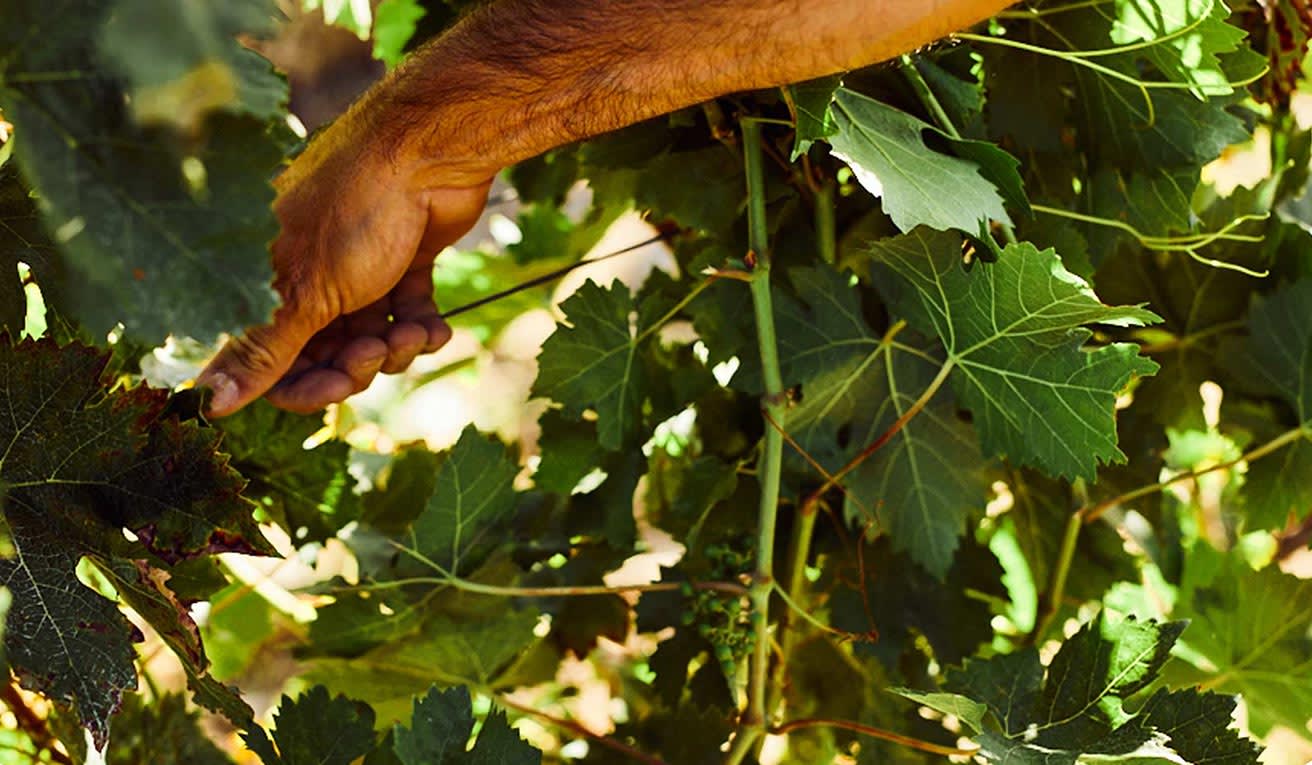 Matt however, does recognise that despite all the progress, there is still a long way to go. "In some regions, there's a big patchwork effect, and you can clearly see the differences between the conventional vineyards and the more sustainable ones. For the latter, you can see grass growing down the middle of vines, wallflowers, birds flying, while in the former, there's bare earth, like the land has been ravaged, and vines that look like they're on life support," says Matt. "Wine has a strong history of fertiliser and pesticide, especially in climates which are more disease-prone. Maybe it's in part because the industry is so old school, and all these practices that have been passed down from generation to generation, so going sustainable is a bit of a leap of faith."
"But the results speak for themselves, and it's a way of getting consumers more interested and more producers on board with the potential in such methods and practices," he continues, hopefully.
"These sustainable practices are backed up by science, and you have this whole new wave of consumers who are concerned with sustainability, and this demand and sense of responsibility can help drive change. That's why we're using the platform to promote these producers, to explain the great work they're doing, and show consumers that these are viable options to add to their wine collection too. In fact, I was reading about Cullen wines in Western Australia who converted to biodynamics in 2003, and since they did that, they've calculated their winery is carbon positive, and sequester more carbon than they emit. It's these changes we're arguing for that can be really positive in the industry and the wider world."
"If you look at the market in Singapore, there's this huge potential for sustainable wines, and a real thirst for it, whether in terms of tasting it or just finding out more about it."
As for the future of VIVANT, Matt recognises the infinite possibilities the platform has, and is excited for the future of the company. "It's still a very young project, and we're thinking of how to continue growing and evolving in the years to come," says Matt. "We want to be a global, inclusive platform and movement, adapt the more information we gain, and eventually, aspire to feature wines from around the globe. especially if they fit our mission. If you look at the market in Singapore, there's this huge potential for sustainable wines, and a real thirst for it, whether in terms of tasting it or just finding out more about it. That's where we come in. I don't believe that sustainability is a fad, and we will likely see dramatic positive change over the next 10 years. As time goes by, I hope that we can create a whole community of wine lovers supporting sustainability, with us at the forefront leading their wine journeys."
All photos from VIVANT's website
More information available here